THE HISTORY OF
OSCAR ZARETSKY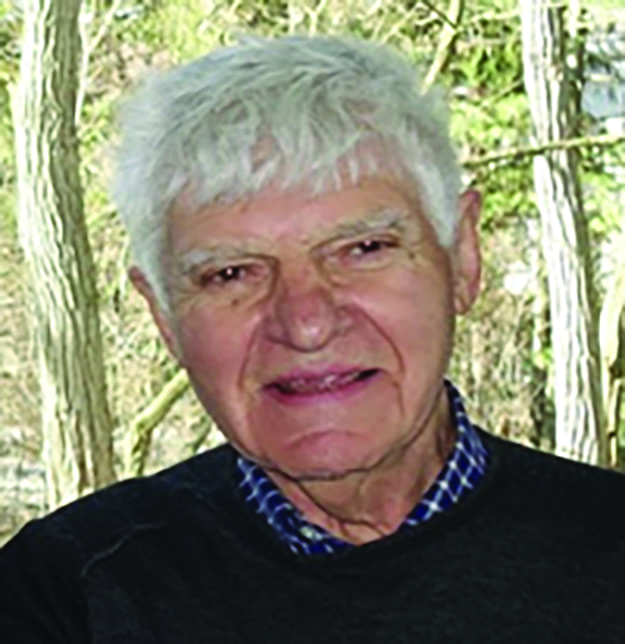 presented by his grandson
Samuel Buckstein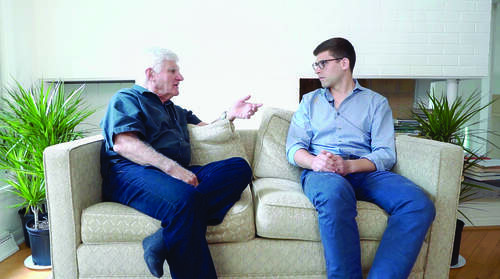 Oscar Zaretsky survived the Holocaust by Bullets in eastern Poland. He and his siblings were orphaned when the Germans invaded the Soviet Union, and they were forced to spend many months alone in the forests, perilously clinging to life. After the war, Oscar came to Canada as a refugee and was adopted by the Zaretsky family in Winnipeg. He settled in Toronto and built a family and career. Oscar's life is an inspiring story about catastrophe, perseverance, luck, and survival. His history is told by his grandson, Samuel Buckstein.
THE HISTORY OF
BILL GLIED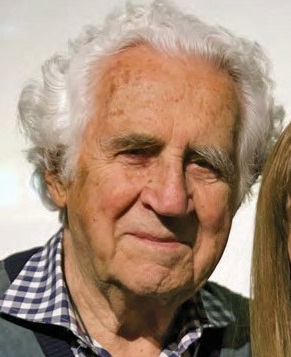 presented by his daughter
Michelle Glied-Goldstein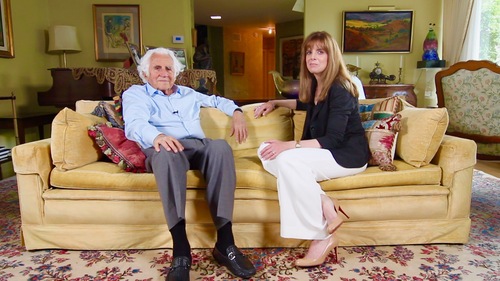 Bill Glied was deported to Auschwitz- Birkenau from his home in Yugoslavia in May, 1944. His mother, sister and grandparents were murdered in the gas chambers upon arrival. He and his father were transferred as slave labourers to Dachau Concentration camp where his father died just 9 days before liberation. Bill was among the first Jewish orphans admitted to Canada. He rebuilt his life here, married, had 3 children and 8 grandchildren. He left a message of optimism and hope. He encouraged others to stand up when they see wrong and to always do small acts of kindness to help make the world a better place. His history is presented by his daughter Michelle Glied‑Goldstein.
THE HISTORY OF
NATE LEIPCIGER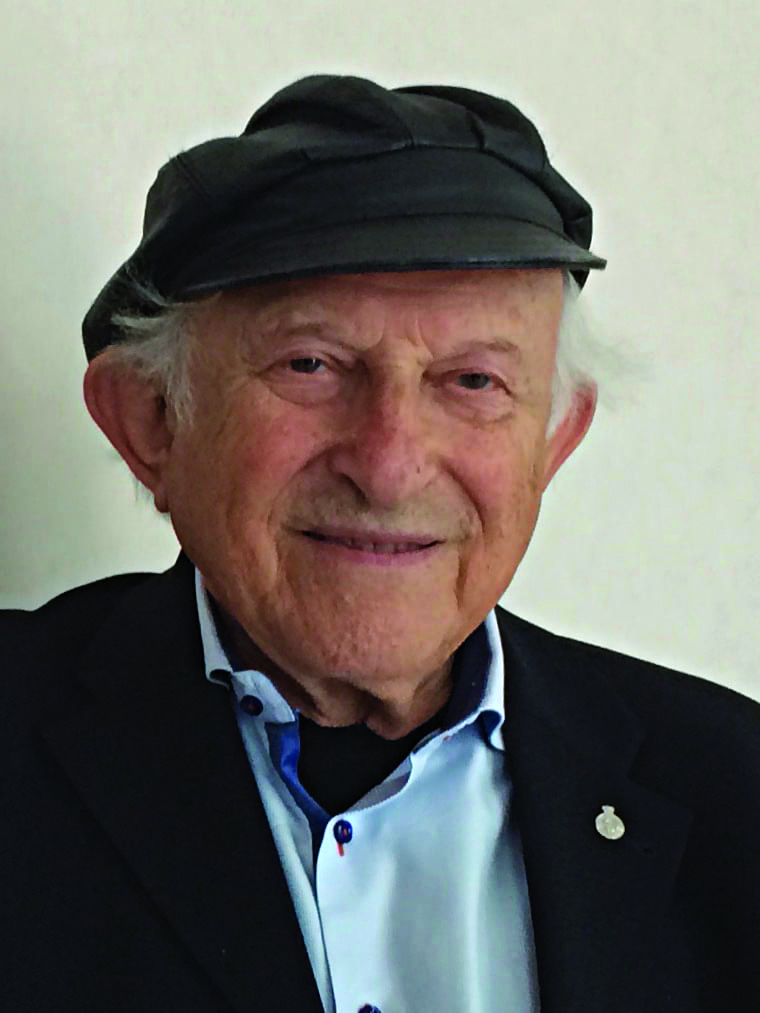 presented by his granddaughter
Jenn Green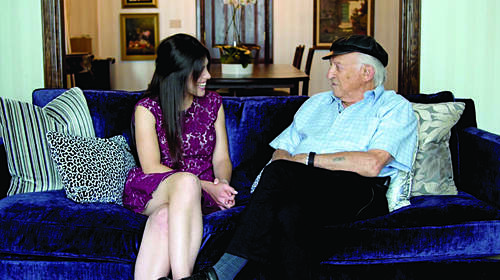 Nate was born February 28, 1928 in Chorzow, Poland. When the Germans invaded Poland, he was sent to the Sosnowiec Ghetto. Then, in July, 1943 he was deported to Auschwitz- Birkenau and subsequently transferred to Fünfteichen, GrossRosen, Flossenberg and Dachau Concentration Camps. Nate and his father were liberated on May 2, 1945 and they immigrated to Canada together in 1948. Nate became an engineer and went on to live a life devoted to family and to Holocaust remembrance and education. He has shared his history with 1000s of students, co-founded the Neuberger Holocaust Education Centre, published his memoir The Weight of Freedom and in 2016 visited Auschwitz-Birkenau with Canadian Prime Minister Justin Trudeau. His history is presented by his granddaughter Jenn Green.
THE HISTORY OF
ALBERT SLIWIN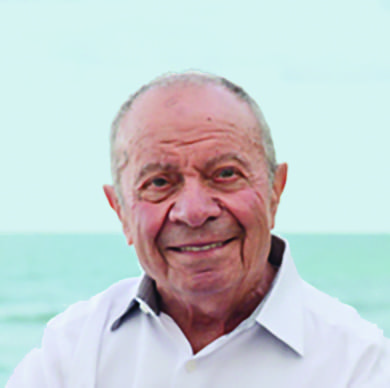 presented by his granddaughter
Ashley Steinhauer Otto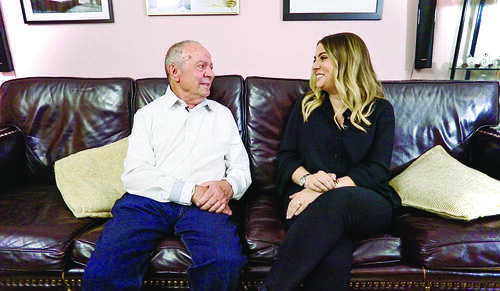 Albert Sliwin was born in 1931 in Poland. From 1940 to 1942, the Sliwin family lived in the Rava Mazowiecki"ghetto. From 1942 until 1945 the family hid from the Nazis in barns, on top of stables, in fields and forests. Shortly before liberation, Albert and his family were taken from their hiding spot and their father was murdered. After liberation, they returned to their hometown, then fled to Lodz, moved to Germany, and then to France. In 1951, the Sliwin family immigrated to Canada. Albert married, had two daughters, and now has five grandchildren, and five great granddaughters. Albert is still very energetic and goes to work every single day. He is committed to charitable giving and is very proud to be Canadian. His history is presented by his eldest granddaughter, Ashley Steinhauer Otto.
THE HISTORY OF
ROSE LIPSZYC
presented by her daughter
Carol Lipszyc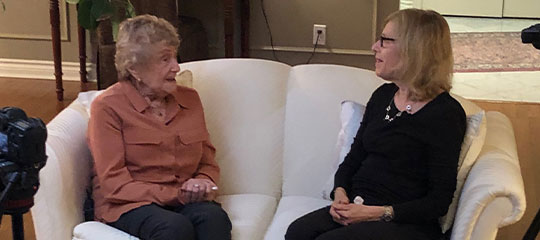 Rose Lipszyc was born Roza Handelsman in May, 1929 in the Old Jewish District of the city of Lublin, Poland. After being dispossessed of their home with the advent of war, her two brothers, mother and father fled to the countryside and were ultimately deported from the Belzyce marketplace in October, 1942. From there, her father was carted off to Majdanek while Rose, her mother and siblings were forced on a death march to the trains which would lead to Sobibor. Upon the urging of her mother, Rose fled imminent death and was aided by a Polish farmer, Stanislaw, and his wife, Maria, the Jablonskis, with whom the family were connected. Along with her maternal aunt, Rose Finkelstein, Rose assumed the alias of a Jablonski daughter and survived the war as a Polish Catholic forced labourer in a rope factory in Bremen, Germany, the youngest of workers gathered from nations across occupied Europe. Rose later married Jakob Lipszyc in Israel, 1949 and settled in Toronto in 1952, raising a family of three children. She has been blessed with five grandchildren and four great-grandchildren. A self-taught bookkeeper, Rose became a tireless Holocaust educator of adolescents, and for her inspiring testimony and dialogue with the young, she has been awarded the Order of Canada in December 2021. Her narrative and history are being told by her daughter, Carol Lipszyc.
THE HISTORY OF
HUGO RUBINGER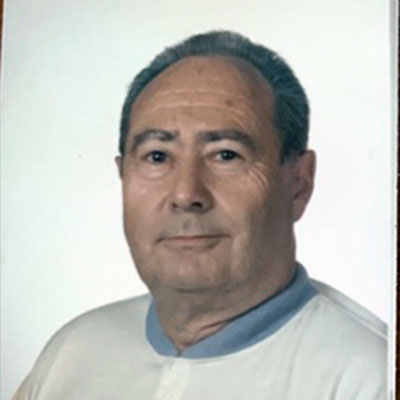 presented by his grandson
Luc Rubinger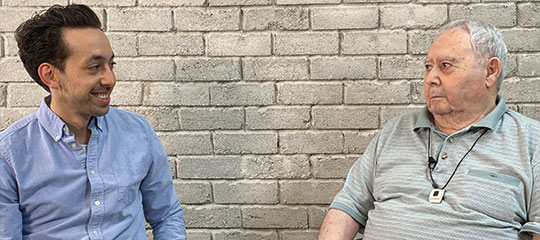 Hugo Rubinger was born in 1928 in Chernovitz, which at the time was part of Romania. In 1941, after his father was killed by local militia (pogroms) while away on business, he, his mother, and grandmother were forced to live in the city's Jewish ghetto. Soon after, he and his family were moved to a labor camp in Western Ukraine where they lived under Nazi rule until 1944, when they were liberated by the Russians. After liberation, Hugo moved to Bucharest, the capital of Romania, and studied to become a professional photographer and movie maker. He immigrated to Israel with his wife in 1961, where he had two children. The whole family moved to Canada in 1975, where he is now the grandfather of five. His history is presented by his eldest grandson Luc Rubinger.
THE HISTORY OF
MYRNA SANDLER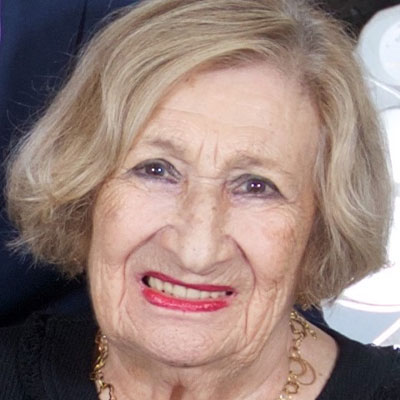 presented by her niece or nephew
Francine Gerstein / Josh Gerstein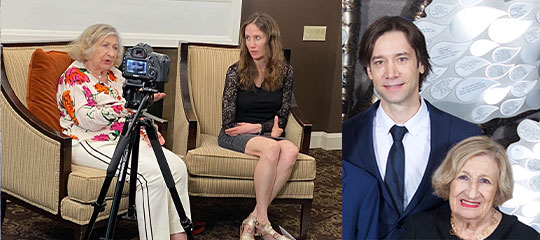 Myrna Sandler was born on December 17, 1927 in Lutsk, Poland. She lived there with her brother, Ben Gerstein, and their parents, Shea and Bayla. When the Nazis invaded Eastern Poland in 1941, they were forced out of their home into the city ghetto. From there, a Polish farmer named Mr. Jarmoszko and his family hid them in a haystack from the fall of 1942 to the winter of 1943. After that, for almost one year, a Czech farmer named Mr. Cepek and his family hid them in the attic of his barn and also in a wooden bunker buried under the ground. Because of these extraordinary people, Myrna and her family survived the Holocaust. Following their liberation, they spent three years in a displaced persons camp in Germany. Myrna and Ben's father died of a massive stroke after helping to save his whole family. Myrna, Ben and their mother Bayla immigrated to Toronto in 1948. They worked hard, rebuilt their lives and had families of their own. Myrna's history is presented by her niece Francine and her nephew Joshua. It is also their father Ben's story. Their presentation includes an interview with the Cepek's granddaughter – who reads from her grandmother's memoir about the day the Gersteins arrived at their door.
THE HISTORY OF
MORRIS DEVON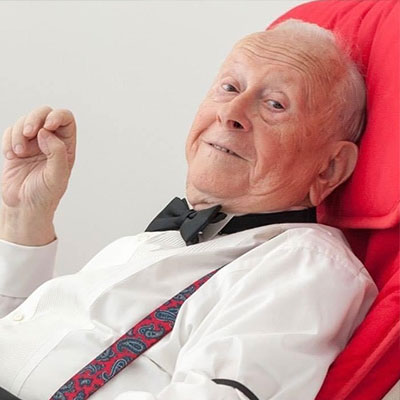 presented by his daughter
Karen Devon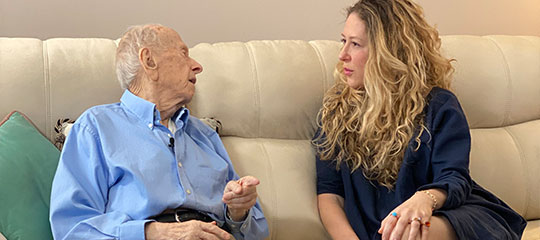 Morris Devon was born in Wodzislaw Poland in 1929. His father sent him to hide in a small underground bunker on a farm, with his aunt, uncle and cousin where he remained for two and half years until liberation in 1945. His father, mother, sister, grandmother and most of his extended family were murdered. Morris came to Canada as an orphan and despite surviving the impossible, lived a righteous, joyful and full life until the age of 92. His inspiring story is told by his daughter Karen Devon.

Presentation available in English and French.
THE HISTORY OF
AILEEN FRYDRYCH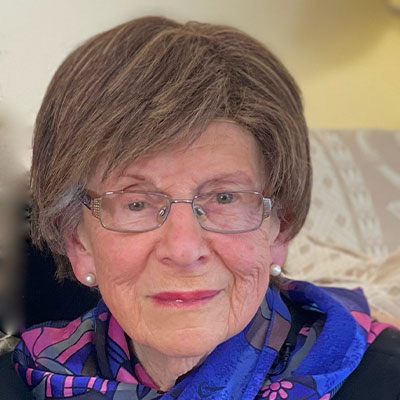 presented by her granddaughter
Kelly Frydrych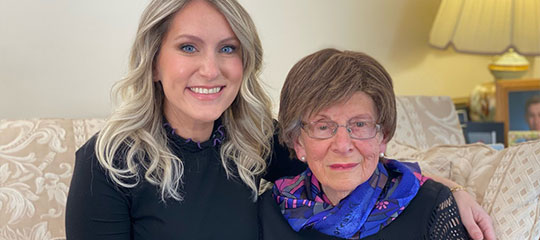 Aileen Frydrych (nee Rabinowicz) was born in 1931 in Kryvicy, a small town outside of Vilna, Belarus. She fled the town ghetto for the Soviet Union with her mother, Ester, just hours before the ghetto was bombed in 1942. Aileen's older sister, Rivka, hid on a farm but was murdered after being discovered by Polish collaborators. Aileen and her mother were unable to make it to the Soviet Union and hid in a forest for two years before being liberated. After liberation, they were reunited with Aileen's father, Mendel, and went to a DP camp in Germany and then to Canada in 1946. She later married Henry Frydrych who was the only survivor of his family of seven siblings and parents. They built a new life together in Toronto and had two children, seven grandchildren and five great grandchildren. Her story is told by her granddaughter, Kelly Frydrych.
THE HISTORY OF
CHAVA SLOMA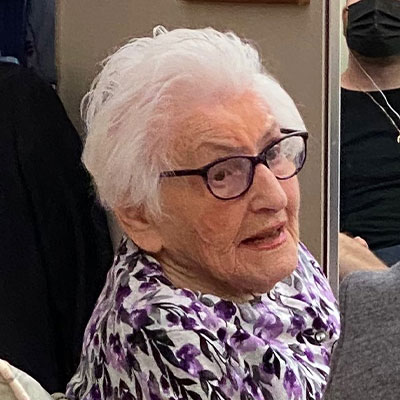 presented by her granddaughter
Naomi Parness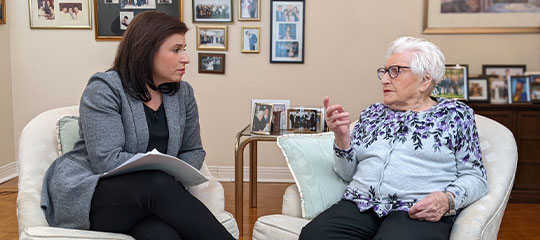 Chava Felner-Sloma was born on October 11, 1925 in Otwock, Poland. She and her sister were on a train destined for a concentration camp, but it was re-routed to Siberia. She survived a Siberian labour camp, but the rest of her large family including her parents and siblings, were murdered in Treblinka. She married Abe Sloma in 1946 in Poland after the war. They were in Israel until 1951 when they came to Canada and rebuilt their lives with their two daughters. They now have 4 generations of family, including 8 great grandchildren. They call their family "their riches". Chava has always stressed the importance of being tolerant of others and recognizing the dangers of hate. Her history is presented by her grand-daughter Naomi Parness.
THE HISTORY OF
SUZANNE ZADA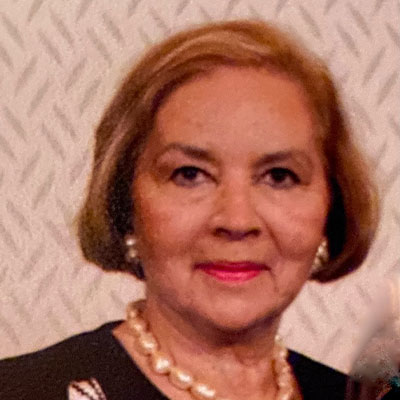 presented by her great niece
Olivia Briffault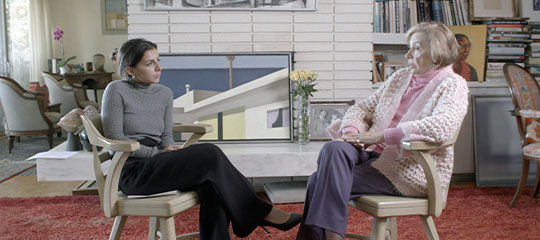 Suzanne Weiner Zada was born December 21, 1929 in Subotica, Yugoslvia but grew up in the small town of Tiszafured. In March of 1944, her family was sent to the nearby Ghetto. Soon after, her father, Erno, was sent to a forced labour camp near the Russian front while Suzanne, her mother Juca, grandparents and younger brother Lazslo were sent to a second ghetto and from there to Auschwitz-Birkenau. When they arrived in Auschwitz-Birkenau, her mother was instructed to give Laszlo to her parents. That was the last time Suzanne saw her younger brother or grandparents. Suzanne and Juca were sent to the women's camp. The two were together in Birkenau for a couple weeks but were separated. Suzanne was transferred to Bergen-Belsen and then Oxenstal, where she worked as a forced labourer in an underground salt mine. When the Allies were approaching, the Nazis cleared the camp and sent the prisoners on trains toward Denmark but as the Allies neared the Nazis abandoned the train leaving the prisoners dying aboard. Suzanne was rescued by a young Danish boy who heard her moans and was taken by the Red Cross to Sweden, where she spent a year recovering until she was well enough to return to Yugoslavia, and eventually moved to Budapest. In 1956, she moved to California. Her history is shared by her great-niece, Olivia Briffault.
THE HISTORY OF
ANDREW LENGYEL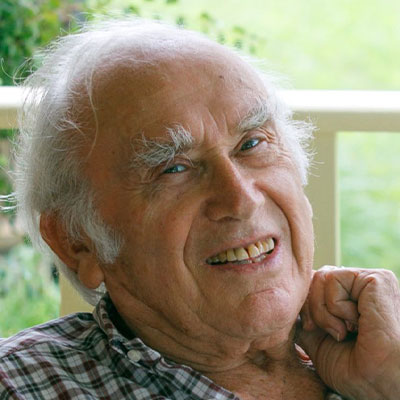 presented by his granddaughter
Jessica Poole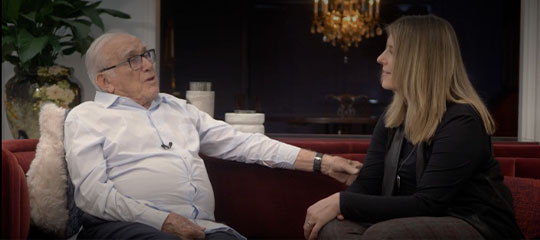 Born in 1928, in the small Hungarian town of Balasagyarmat, Andrew delighted in watching Sunday football matches with his father and biking around town on his red racer, until his father was taken to labour camps, until the police confiscated bikes and radios belonging to Jewish people, before he had to wear a yellow star and live in the ghetto.
He was fifteen-years old, tall for his age, and the only way out of the ghetto in which he and his family had been imprisoned was by "volunteering" to work in a labour camp. So that's what Andrew did, never suspecting that would be the final time he would see his family, never suspecting the back-breaking work of the labour camp would only be the beginning of the increasingly horrific violence he would suffer, witness – and survive.
Andrew arrived in Canada as part of a Jewish war orphan program in 1948. He continued his studies, got married, built a company, and became the happy patriarch of a large, loving family.
His story is a compelling testimony to the brutal consequences of bigotry, and to the surprising power in small acts of kindness. Andrew's story is shared by Jessica Poole, the eldest of his many grandchildren.